Lashing+Securing
PLAN-PLACE-PRINT
Whether you are new to lashing and securing or a seasoned pro. Your workflow from cargo planning all the way up to reporting and approval just got a whole lot easier. There's no need for expensive and extensive CAD software or making any calculations in spreadsheets. Visually plan your cargo, place every known lashing option and print for execution. Fast & easy.
With over 3250 vessels ready for usage and thousands and visualized cargo sets. Drag & drop your cargo onto any vessel and start placing your cargo intuitively.
3000+ Vessels and 3500+ cargo imagesets
Drag & Drop cargo on a vessel
Different acceleration calculations
Additional tipping & uplift
Designed for open top voyages
Easily apply any lashing and securing options while receiving real-time calculations. Drag and drop stoppers, chains, belts, twistlocks, clips, timber beams, wires, H-beams and turnbuckles to secure your cargo according IMO, DNV or DNV-GL classifications. And the intuitive interface allows you to make changes on the spot.
Visual view of lashing material
Editable specs per lashing & securing type
Chains / belts / wires / synthetic
Adjustable steel type for stoppers
Adjustable wood type for timber shorings
Realtime calculation results
Whether you're an asset owner, risk consultant, project manager, or involved as an insurance adviser, easily share detailed and visual planning proposals with numerous annotation possibilities.
Material summary capacity/results
Lloyd's Register certified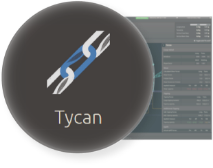 SYNTHETIC LASHINGS
Synthetic lashings (E.G. Tycan chains, certified by DNV-GL) can now be applied from the toolbox ribbon.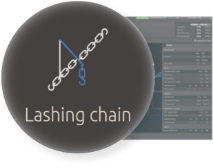 LASHING CHAINS
All familiar L&S methods are available in Videck.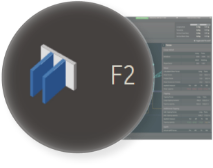 STOPPERS
Choose one of the pre-defined stoppers from the ribbon or adjust your stopper manually.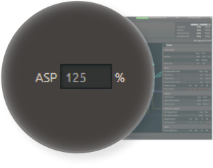 ASP
(Agreed Safety Percentage)
You can agree upon a fixed safety percentage which represents the minimum securing capacity of your cargo items.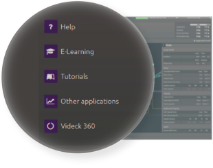 INET CONNECT
Contact us for our free E-learning courses to improve your Videck skills
CALCULATIONS
Real-time calculations show if your cargo has been secured sufficiently.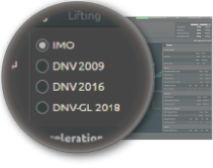 ACCELERATION
The latest IMO, DNV and DNV-GL calculation methods are included. Adjustments of the criteria will be updated on a frequent basis.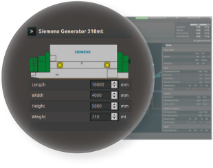 CARGO SPECS
Enter all necessary cargo variables in the cargo properties form.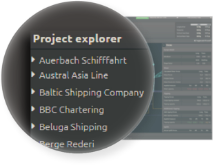 PROJECT EXPLORER
Choose one of the vessels in the project explorer.
Videck Lashing+Securing is a tool which includes all relevant steps for an adequate sea fastening and provides for me as a frequent user a helpful basis for daily work.
Eva Klepping
dteq Transport Engineering Solutions
Buy now

REVOLUTIONARY VISUAL WORKFLOW
We've set out to deliver the next milestone in visual heavy cargo planning. With continuous improvements, this proven software is miles ahead of its predecessors. No reason not to upgrade or join the growing number of maritime professionals today!
SAVE TIME, SAVE RESOURCES
We'd like to use our time as effective as possible. When creating heavy cargo plans, let the tools do the work for you. Real-time calculations and a visual workflow will ensure you get the job done fast and most of all, reliable.
VISUALIZE YOUR PLANS
Your cargo is actually visible. Drag and drop, select and rotate. Move and remove, the intuitive interface allows you to make changes on the spot.
ALWAYS A COMPLETE OVERVIEW
There is no need for a workflow with different software solutions like 3D imaging and spreadsheets. Videck Lashing + Securing allows you to maintain an overview at all times whilst working on the details. Nothing is ever overlooked.
EASY TO SHOW AND SHARE
With a completely visual workflow your team will be able to see the plans, share them easily and communicate faster.
WORK MORE EFFECTIVE, STAY CONSISTENT
Ever wondered if you could work better, faster or more effective? You're now able to shuffle and plan as much as you like whilst using the robust features of the software to create more effective plans every project.
QUICK ACCESS TO CRITICAL INFORMATION
All the tools and critical information is just one click away. Whether it is an extensive report or a detailed look at a lashing calculation.
GET MORE TECHNICAL INSIGHTS
Working with complex balance or strength calculations against the influence of weather can be extremely difficult. Videck always ensures industry standards, accurate details and proven workflows.
FAST & EXTENSIVE REPORTING
When going through an approval process, Lloyd's Register Certified reports can boost your workflow and assist you to get the job done.
LASHING+
securing
Plan place print
Visualize your cargo plans with the Videck® Lashing+Securing software. Create precise and detailed voyage plans with reliable certified technology. Implement this visual workflow software and start working faster today!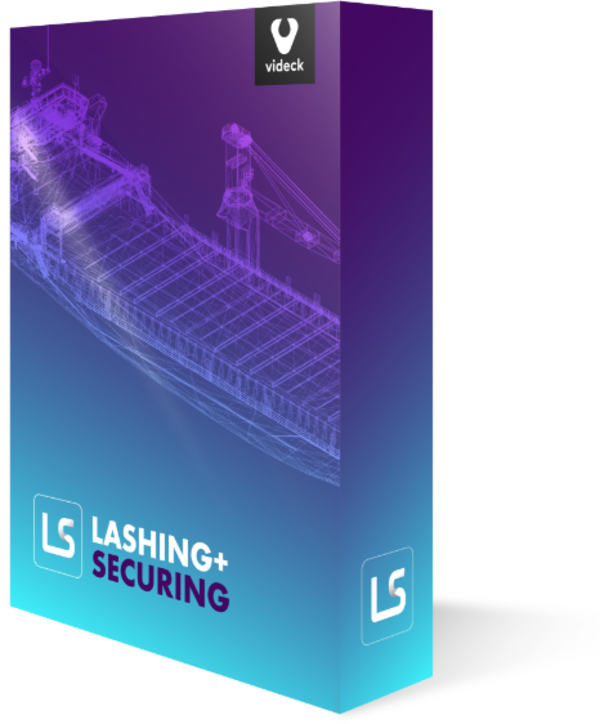 YOUR EXTRA HANDS ON DECK WITH VIDECK!
Conquer all questions and get instant feedback whenever you are in need of assistance. Videck serviceport is a service available for all Videck users that allows you to work on your projects knowing that there is a team of experts ready to help as soon as possible.
FREE FOR ALL VIDECK USERS
Do you have questions, or are you looking for a second opinion about your stowage plan? Do you need help to implement the software at your business? We are by your side. Our team of dedicated and experienced maritime professionals are your colleagues and companions for all tips, tricks and help regarding Videck software.
Explore more
Q&A
Read some frequently asked questions in our documentation for the quickest answers to your questions about Videck Lashing+Securing.
What is Videck Lashing + Securing?
Videck Lashing + Securing is a new online software application which lets you create stowage plans and lashing + securing plans in a user-friendly interface.
How do I know that the results will be accepted by my client?
The software has been tested and certified by Lloyd's Register, a maritime classification society.
I have purchased the software and would like to request a new image set. What should I do?
Send your high quality PDF/CAD drawing to info@videck.com and we will start working on your image set. Depending on the number of requests, we will create the image set within 3-5 working days for free.
What kind of output formats are supported?
Videck Lashing + Securing has a build-in reporting tool, which gives you the opportunity to send high quality PDF reports to the client with your company logo on the format. For example, the output can also be used as an appendix in a Method Statement or transport manual.
I have created a voyage plan and I would like to send it to my colleague overseas. What should I do?
You can create an export file of your voyage and send the format to your colleague. If he has a license as well he can import the data into the Videck Lashing + Securing software.
We have bought one license for Videck Lashing + Securing. How many users can use the software?
One subscription is valid for one user only.
On the website are more modules besides Videck Lashing + Securing. When will these be available?
Additional modules will be developed in the near future. Please subscribe to our newsletter to stay tuned.
What are the minimum requirements for Videck Lashing + Securing?
1.0 Ghz Intel/Celeron/Pentium processor or higher, 1GB RAM or more, Windows XP, Windows Vista, Windows 7, Windows 8, Windows 10. Please use a browser that supports the latest web standards such as Mozilla Firefox or Google Chrome. Also, an internet connection is required.
Can I run Videck Lashing + Securing on an MAC OS?
Yes, this is not a problem as long as you have an internet connection.